Posts for: January, 2016
By Greenleaf Dental Care
January 18, 2016
As a member of the best-selling pop group Spice Girls, Mel C (AKA Sporty Spice) enjoyed her share of musical superstardom. At the band's peak in the Nineties, the young singer's signature look featured baggy sweatpants, an assortment of tattoos, a nose stud and a gold-capped incisor, front and center in her mouth. Today, Melanie Chisholm is still singing — but now she's a mom, an amateur triathlete… and that gold tooth is just a memory. Not only that, her smile looks more evenly spaced and whiter than it did when she was referred to as the "tomboy" of the group.
What happened? In our view, it all boils down to changing tastes — plus a little bit of help from dental professionals. As the "wannabe" singer proves, there's no single standard when it comes to making your teeth look their best. Your own look is unique to you — and your smile can reflect that individuality.
For example, crowns (caps) are substantial coverings that may be placed on teeth when they are being restored. They are available in three types: gold, all-porcelain, or porcelain-fused-to-metal. The latter two are tooth-colored, while the gold is — well, shiny like gold bling. Which one is right for you? In many cases, it's your choice.
Likewise, dental veneers — wafer-thin shells that can correct cosmetic issues by covering the surface of your teeth — can be made in a variety of shades. Their hues may range from natural ivory to Hollywood white, and everything in between. What's the best color for you? Only you can say.
Some people opt for a "smile makeover" that uses small irregularities in the spacing and color of teeth to create a more "natural" look. Other folks want a perfectly even, brilliant white smile that dazzles the eye. Still others are looking to match or restore the smile they once had — perhaps even re-creating a signature gap between the teeth. As long as there are no other dental issues involved, the choice is yours.
So if you're unhappy with your smile — or if you feel it doesn't reflect the person you "wannabe" — why not talk to us about a smile makeover? Just call our office to schedule a consultation. You can learn more about this topic in the Dear Doctor magazine articles "Beautiful Smiles by Design" and "The Impact of a Smile Makeover."
By Greenleaf Dental Care
January 10, 2016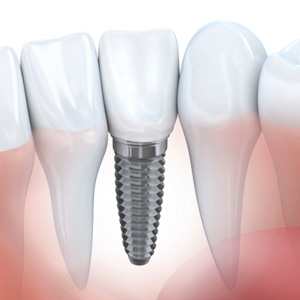 Since their introduction over three decades ago, dental implants have evolved into dentistry's premier tooth replacement choice. While their primary purpose is to replace missing teeth and rejuvenate a patient's smile, they're also regarded for another important benefit: they can slow or stop bone loss accelerated by the loss of teeth.
Like all living tissue, bone has a life cycle. Older bone dissolves and is absorbed by the body, a process called resorption. New bone forms and grows to replace the resorbed bone in response to stimuli occurring within the body. In the jaw, this stimulation comes from the forces the teeth receive when we bite or chew.
When a tooth is lost, however, it no longer transmits these force stimuli to the adjacent bone. This results over time in less new growth to replace resorbed bone, and the overall bone mass shrinks. In fact, about a quarter of the normal bone width will diminish in the first year alone after tooth loss. Other serious problems follow, like gum recession or chewing and speaking difficulties. A person's appearance may also suffer, because as resorption continues unchecked, the underlying foundational bone will continue to shrink. As more teeth are lost, a decrease in the distance between the nose and chin may result causing the lower third of the face to become smaller in size.
Dental implants can interrupt this process by encouraging bone growth around the implant. Implants are made of "osseophilic" titanium, meaning the metal has a natural affinity with bone. After implantation, bone cells will begin to grow and attach to the titanium post. The enhanced growth stabilizes bone loss by providing stimulation to the bone as teeth once did, thereby maintaining bone levels and minimizing potential effects on the patient's appearance.
Ironically, too much bone loss could make the installation of implants more difficult, since they require a minimum level of bone mass for anchorage. Receiving an implant as soon as is practical once a tooth is lost will minimize the chances of that occurring — and a better chance of improving bone health overall.
If you would like more information on how dental implants improve bone health, please contact us or schedule an appointment for a consultation. You can also learn more about this topic by reading the Dear Doctor magazine article "The Hidden Consequences of Losing Teeth."