Posts for: February, 2018
By Greenleaf Dental Care
February 17, 2018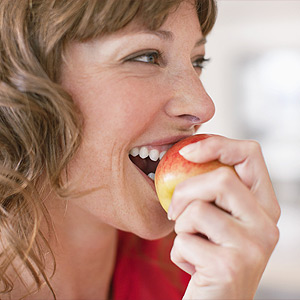 Good nutrition is vital for maintaining health and preventing disease, especially for your mouth. A diet rich in whole foods — fresh fruits and vegetables, protein and dairy products — and low in sugar will not only promote strong teeth and gums, but lessen your chances of developing tooth decay or periodontal (gum) disease.
Diet is also a prominent factor in reducing the risk for another serious mouth disease — oral cancer. While oral cancer makes up only 3% of total cancer cases reported annually, the five-year survival rate is a sobering 50%, much lower than for other types of common cancers. While genetics plays a role in your susceptibility to oral cancer, lifestyle choices and practices present the greater risk factors for the disease.
Of these lifestyle factors, refraining from tobacco products, moderating your alcohol consumption and avoiding risky sexual behavior are of primary importance in reducing your cancer risk. With that said, you should also take into account the foods that are part of your daily diet — both what you should and shouldn't eat. As an example of the latter, some foods contain a class of chemicals known as nitrosamines that are carcinogenic (cancer-causing). One such chemical, nitrite, is used as a preservative in meats like bacon or ham, and may also be found in beer, and seafood products.
On the positive side, your diet should be rich in foods that supply antioxidants, substances that protect the body's cells from damaging, unstable molecules known as free radicals. The best sources for antioxidants (more so than dietary supplements) are plant foods rich in fiber and vitamins C and E. Eating more of these may also reduce your intake of nitrates, animal fat and saturated fat.
Adopting a moderate, nutritious diet, along with exercise, can have a huge positive impact on your general health and quality of life. Along with other lifestyle changes, better dietary choices can also help ensure a healthy mouth and reduce your risk of oral cancer.
If you would like more information on the role of nutrition in reducing your risk of oral cancer, please contact us or schedule an appointment for a consultation. You can also learn more about this topic by reading the Dear Doctor magazine article "Diet and Prevention of Oral Cancer."
By Greenleaf Dental Care
February 02, 2018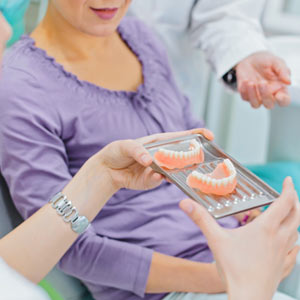 Twenty-six percent of American adults between 65 and 74 have lost all their teeth to dental disease. This isn't an appearance problem only—lack of teeth can also harm nutrition and physical well-being.
Fortunately, we have advanced restorative options that can effectively replace missing teeth. Of these, there's a tried and true one that's both affordable and effective: removable dentures.
Dentures are simple in design: a plastic or resin base, colored with a pinkish-red hue to resemble gums to which we attach prosthetic (false) teeth. But while the design concept isn't complicated, the process for creating and fitting them can be quite involved: they must conform to an individual patient's jaws and facial structure if they're going to appear natural.
If you're considering dentures, here's some of what it will take to achieve a successful outcome.
Positioning the teeth. The position of the prosthetic teeth on the base greatly determines how natural they'll appear and how well they'll function. So, we'll need to plan tooth placement beforehand based on your facial and jaw structures, as well as photos taken of you before tooth loss. We'll also consider how large the teeth should be, how far to place them forward or back from the lips, and whether to include "imperfections" from your old look that you see as part of your appearance.
Simulating the gums. While the teeth are your smile's stars, the gums are the supporting cast. It's important that we create a denture base that attractively frames the teeth by determining how much of the gums show when you smile, or adding color and even textures to better resemble gum tissue. We can also add ridges behind the upper teeth to support speech.
Balancing the bite. Upper and lower dentures don't operate in and of themselves—they must work cooperatively and efficiently with each other during eating or speaking. So while appearance matters, the bite's bite adjustment or balance might matter more. That's why we place a lot of attention into balancing and adjusting the bite after you receive your dentures to make sure you're comfortable.
This is a detailed process that we may need to revisit from time to time to make sure your dentures' fit remains tight and comfortable. Even so, modern advances in this traditional restoration continue to make them a solid choice for total tooth loss.
If you would like more information on denture restorations, please contact us or schedule an appointment for a consultation. You can also learn more about this topic by reading the Dear Doctor article "Removable Dentures."