Posts for: April, 2020
By Greenleaf Dental Care
April 20, 2020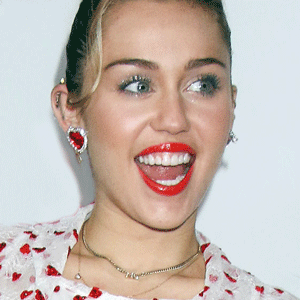 Miley Cyrus's rise to fame began when she was cast in the Disney series Hannah Montana. She played the title character, Hannah Montana, a famous singing star hiding her true identity, ordinary girl, Miley Stewart. In her real life at the time, Miley Cyrus had her own little secret—she was undergoing orthodontic treatment to straighten her smile.
Like many teenagers (as well as many adults), Cyrus's dental bite wasn't in proper alignment. She could have gone the traditional way by straightening her smile with braces fixed to the front of her teeth. It's an effective treatment, but the metallic hardware can overwhelm a person's appearance.
With her various roles in the public spotlight, Cyrus and her family wanted an effective but out-of-sight method for moving her teeth. They chose a relatively new one called lingual braces. Unlike traditional braces, the hardware for lingual braces is fixed on the back of the teeth (or the tongue side, hence the term "lingual").
Lingual braces can correct any bite problem labial ("lip") braces can, just through different mechanics of movement. Its main appeal is that the hardware is hidden behind the teeth, so only you and your orthodontist need know you're wearing braces.
There is also less risk of damage to the mouth or the braces themselves if you're in a sport or profession where you're at high risk for facial blows. And unlike patients with traditional braces, you'll have an unobstructed view of your progress over the course of treatment.
Lingual braces do tend to cost more than traditional braces. Some patients also have difficulty at first with speaking and tongue comfort, though most grow accustomed to the braces within a couple of weeks. Because lingual braces are relatively new, there's been a limited number of orthodontists offering it.
But lingual braces are just one of the ways to straighten teeth. Modern dentistry offers several ways to give you your dream smile. If you have dental problems or would like to improve the look of your smile, please contact us or schedule a consultation, and we can discuss your options. To learn more, read the Dear Doctor magazine articles "Lingual Braces" and "The Magic of Orthodontics."
By Greenleaf Dental Care
April 10, 2020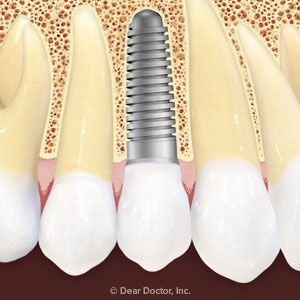 What's so special about dental implants — and why should you consider one to replace a missing tooth?
Although they've only been widely available for thirty years, dental implants have climbed to the top of tooth replacement choices as the premier restorative option. Since their debut in the 1980s, dentists have placed over 3 million implants.
There's one overriding reason for this popularity: in structure and form, dental implants are the closest replacement we have to a natural tooth. In fact, more than anything else an implant is a root replacement, the part of the tooth you don't see.
The artificial root is a titanium post surgically imbedded into the jaw bone. Later we can attach a porcelain crown to it that looks just like a visible tooth. This breakthrough design enables implants to handle the normal biting forces generated in the mouth for many years.
There's also an advantage in using titanium dental implants. Because bone cells have a special affinity to the metal, they will grow and attach to the implant over time. Not only does this strengthen the implant's hold within the jaw, the added growth also helps deter bone loss, a common problem with missing teeth.
It's this blend of strength and durability that gives implants the highest success rate for any tooth replacement option. Over 95% of implants placed attain the 10-year mark, and most will last for decades.
Dental implant treatment, however, may not be possible in every situation, particularly where significant bone loss has occurred. They're also relatively expensive, although more cost-effective than other options over the long term.
Even so, implants can play an effective and varied role in a dental restoration. While single implants with attached crowns are the most common type of replacement, they can also play a supporting role with other restorative options. As few as two strategically placed implants can provide a more secure connection for removable dentures or fixed bridges.
You'll need to first undergo a thorough dental examination to see if implants could work for you. From there, we'll be happy to discuss your options for using this "best of the best" restoration to achieve a new, beautiful smile.
If you would like more information on dental implants, please contact us or schedule an appointment for a consultation. You can also learn more about this topic by reading the Dear Doctor magazine article "Dental Implants 101."